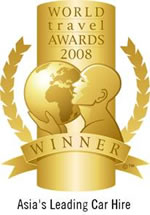 Singapore, 20 June 2008 - Avis, the leading international car rental brand in Asia was recognized by travel professionals around the world for the 3rd consecutive year as "Asia's Leading Car Hire" at the regional World Travel Awards ceremony for Asia and the Indian Ocean, held at the 5-Star Swissotel Grand in Shanghai, China on 19 June 2008.
The World Travel Awards were established in 1993 to acknowledge, reward and celebrate achievements in all sectors of the global travel industry.
"We are honored to be recognized once again by international travel professionals with this award and it is a true tribute to the excellence of the Avis network in Asia", said Eric Brun, General Manager - Asia.
Singapore 09 June 2008, Avis were awarded the title of 'Best Rent a Car Company in the Middle East' for the seventh time in eight years at the Arabian Travel Market Awards in May in Dubai. The award was presented by Martyn Lewis CBE (one of Britain's best known TV news presenters and journalists) to Bev Mileham, Avis UAE
Thierry Domballe, Regional Director Mediterranean and Middle East, Avis Europe Plc, said, "I am delighted that Avis has again reaped this award from its competitors and we are very optimistic about the continued development of Avis in the region for inbound and outbound business. The Avis strategy is to build and maintain this business by targeting both intra-gulf and intercontinental traffic, be it business or leisure."
Avis also had a stand at the Arab Travel Market with Avis representatives from Europe, UAE, Saudi, Kuwait, Qatar, Oman, France and Germany. With over 2,000 exhibitors and 20,000 attendees this is a key travel show for the region.